Today Bernard started the kids off with a
4draw
activity. In 4 boxes, draw 4 cats. But the trick is the timing.
Cat #1 you get a minute, Cat #2, 30seconds, Cat #3, 15 seconds. And of course, Cat #4, 5 seconds flat.
Bernard made the point that a cartoon is less about an image, as it is an
icon.
And icons have the same power as words. We
read
, more than merely look at them, and when you bring both together, something powerful can happen.
Lets have a go.
To start, the students were given 3 separate sticky notes and 3 separate cards to draw on.
On the sticky notes, write:
1. A favourite line from a film, book, or TV show.
2. Something that you'd yell out at someone if you were angry at them.
3. A sentence that you have heard today.
I'll let you work out which ones are what. Next, grab a pencil and draw the following as fast as you can.
1. The funniest thing you can think of.
2. The saddest thing you can think of.
3. A cartoon (comic book, animated, or manga) character doing something very everyday.
Now it is time to assemble the images. Bernard's instructions: Put the text and images together in any combination you want until something happens.
Something like this:
After the students perused each others' work, their cartoons were stuck into their folios.
But making cartoons is only step 1, we are here to make
comics
.
What is the difference, you ask? Well, take a look at this image.
You might have noticed that this ink on paper drawing, 'Hunting Emu' (1880), by artist
Tommy McCrae
(1823 - 1901) has something more than mere iconography. There is a distinct separation of images that are none-the-less linked in a relationship. Lets get Bernard to help us a little more.
The following example from Garry Larson
is not
a comic. It is comedic, but alas, only a cartoon.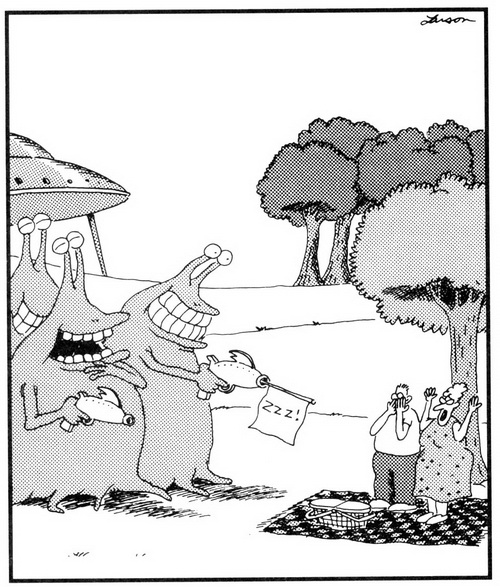 But this one is different.
See--what we need is more than one image, more than an icon or text. We need sequence, we need the space
between
panels. What we really need, is
time
.
But that can wait for next week.
Until then,
Travis.